Give guests a warm welcome in lodging.
A comfortable, safe place to rest is essential for everyone.
Travellers visiting from near and far may be eager to get out and explore—but at the end of the day, they'll need somewhere to relax and recharge before tomorrow's adventures. In the accommodations industry, you'll ensure that guests have a pleasant experience with all the comforts of home.
If you're a caring, considerate person with a keen attention to detail, you'll love helping create positive experiences for all the interesting people you meet. Whether you're working in a cozy bed and breakfast, a trendy boutique hotel, or a luxurious inn—your goal is to maintain a clean, attractive, comfortable, welcoming space for all who enter. When guests enjoy a pleasant stay that's memorable for all the right reasons, they'll be eager to come back and visit again.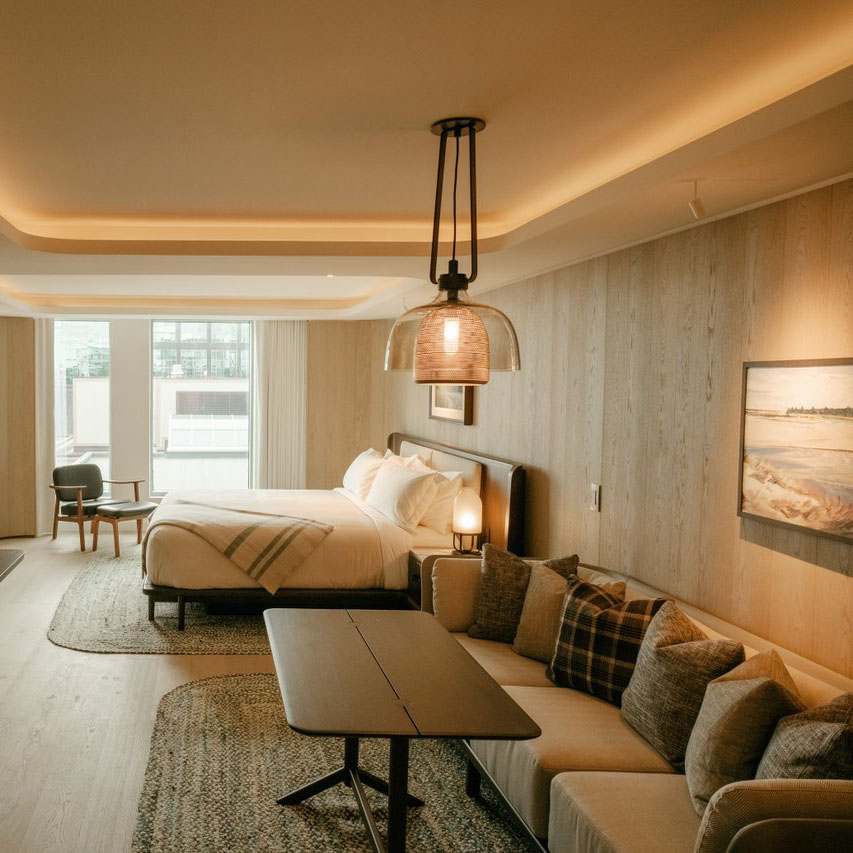 Evaluate your most relevant skills with our interactive quiz.
Everyone has unique talents and experiences that can carry over to new careers and industries. See where you can apply your skills, so you can build off your existing knowledge and expertise.

Choose your starting point
Launch your career in accommodations with one of these entry-level positions where you can develop your leadership skills. Browse our featured roles to see what sparks your interest.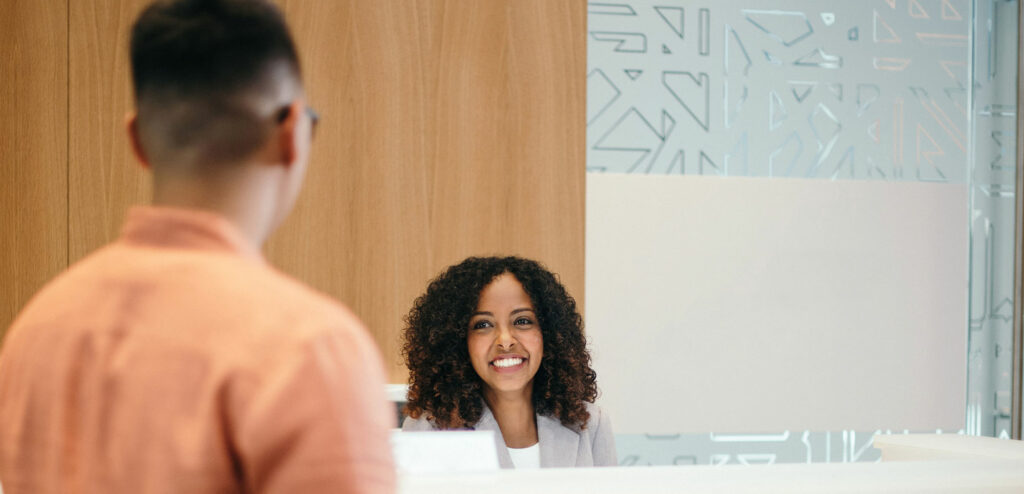 Front Desk Agent
As the first point of contact for visitors of hotels, spas, or other places offering accommodations, the front desk agent welcomes guests, acting as an ambassador for the property and the area. Duties include inputting, modifying and cancelling bookings, providing guest services, addressing requests and concerns, and processing guest arrivals and departures.
Housekeeping Room Attendant
Ensure the comfort and security of guests by attending to the cleanliness, organization, and presentation of private guest rooms and public areas. Housekeeping room attendants may also interact with guests, promoting a positive and hospitable reputation of the property.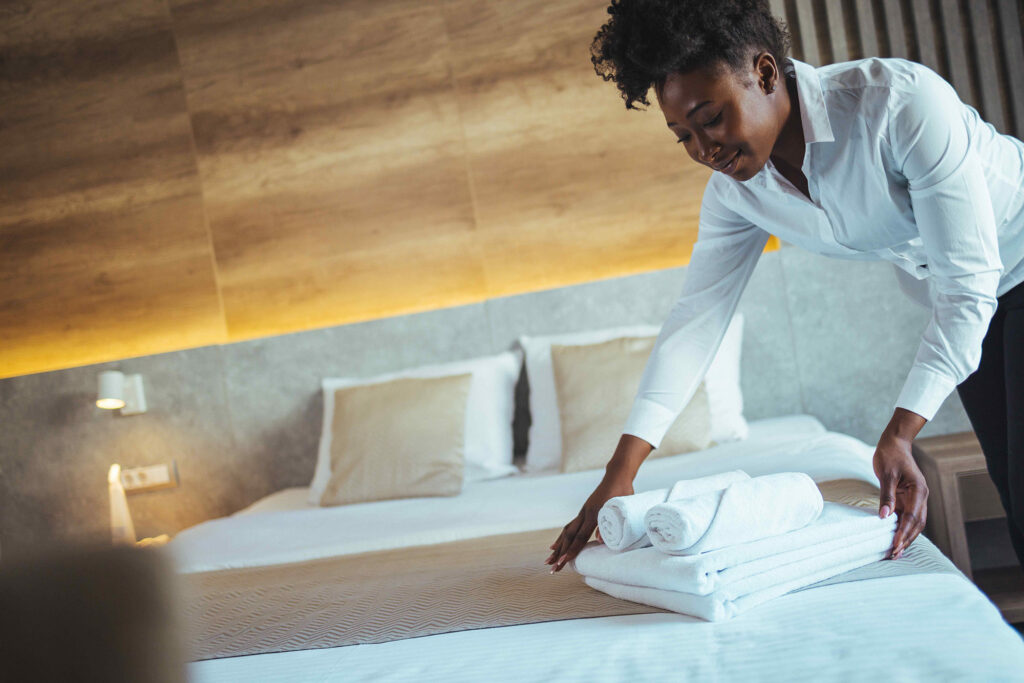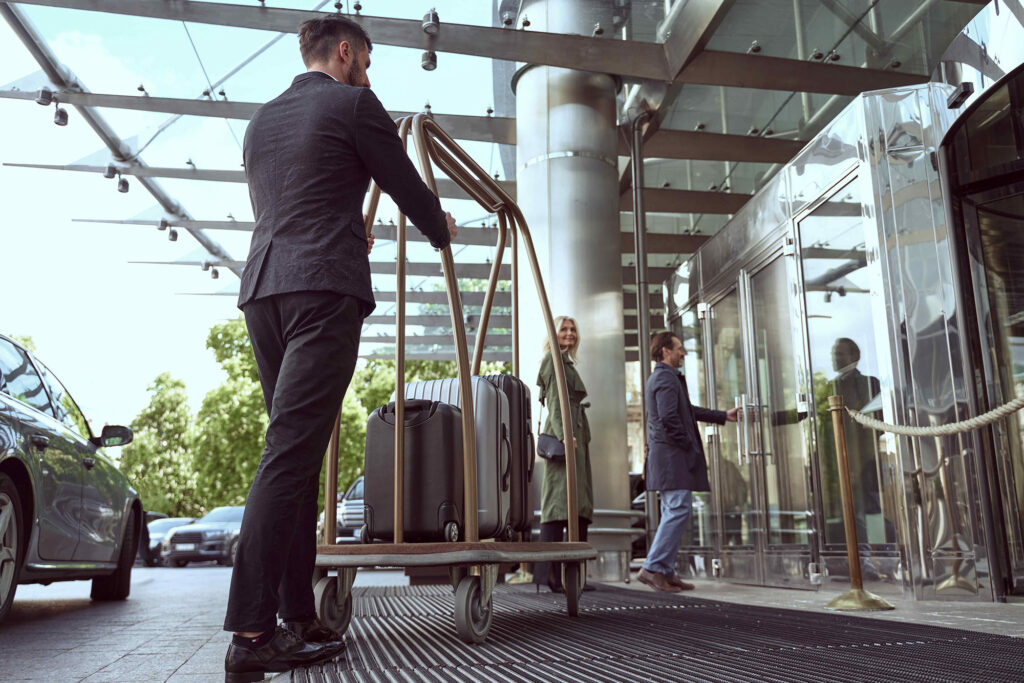 Bellhop/Porter
A bellhop or porter is an in-person customer service agent for a hotel or accommodations establishment. In this role, you'll help guests bring their luggage to their assigned rooms and fulfill room service requests like delivering food, towels, or other amenities. You may make reservations for restaurants or taxi services, or even carry out tasks like picking up guests' dry cleaning. Bellhops and porters often receive cash gratuities from guests in addition to their wages.
Explore Mid-Level Opportunities
As you build confidence in your role, become familiar with industry standards, and you're enjoying the career path you've followed, you can transition into an intermediate role offering more exciting challenges.
Night Auditor
This position combines accounting duties with customer service, assuming the role of overnight front desk agent, when fewer guests are checking in and out. The night auditor reviews all expenses and revenues, prepare's financial reports, reconciles accounts, creates task lists for day-shift staff, and confirms room rates. Good time management and organization skills are required to switch between accounting tasks and guest requests.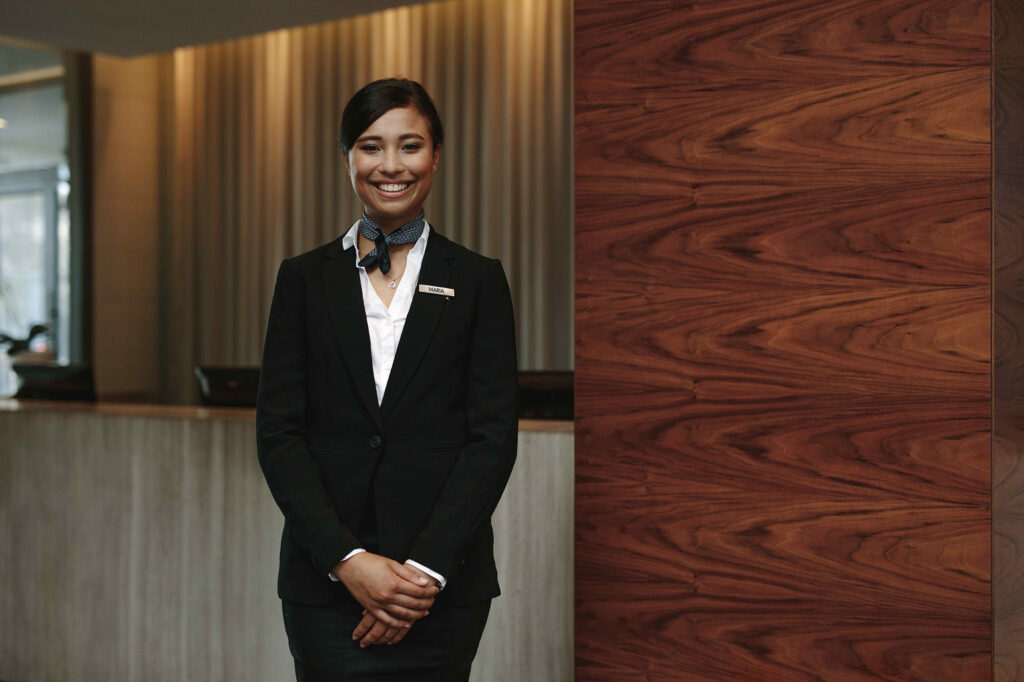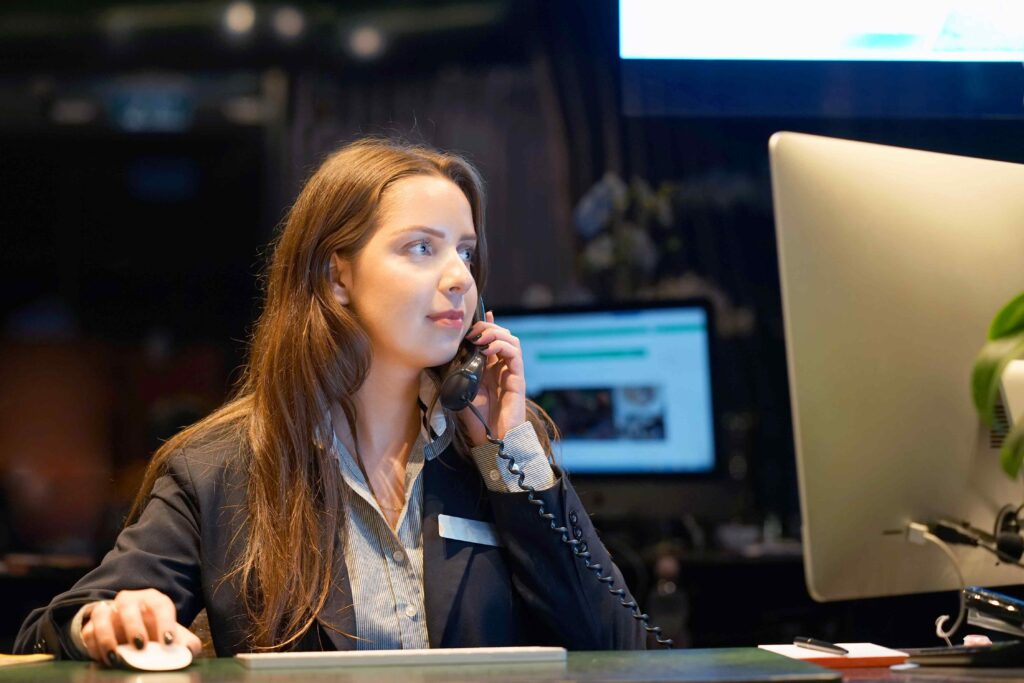 Reservations Agent
In this sales-based position, you'll help travellers select and book accommodations, products, and services from one or more companies. You'll receive inquiries from customers via telephone, email, live chat, or in person. You'll also process payments, booking requests, changes, and cancellations online, and inform clients of relevant information such as complementary products and services.
Next, build your leadership skills
As you gain experience in accommodations, you can progress in your career by developing new abilities and taking on more responsibility. Learn management skills and best practices for leading teams to help you grow in your career.
Watch our Employer Compass Series
Watch our Employer Compass videos to learn trusted tips on leading strong, successful, motivated teams.
Move up to management
Once you've gained valuable industry knowledge and feel ready to take on more responsibility, you can explore more roles that offer even greater potential for success. Here's what a senior-level role in accommodations can look like.
Director of Housekeeping
Oversee and manage all functions of the housekeeping department within an accommodations establishment. Supervise and lead a team of housekeeping attendants and cleaning staff, ensuring all rooms meet cleanliness and service standards. Directors of housekeeping may also be in charge of setting and monitoring the housekeeping operations budget.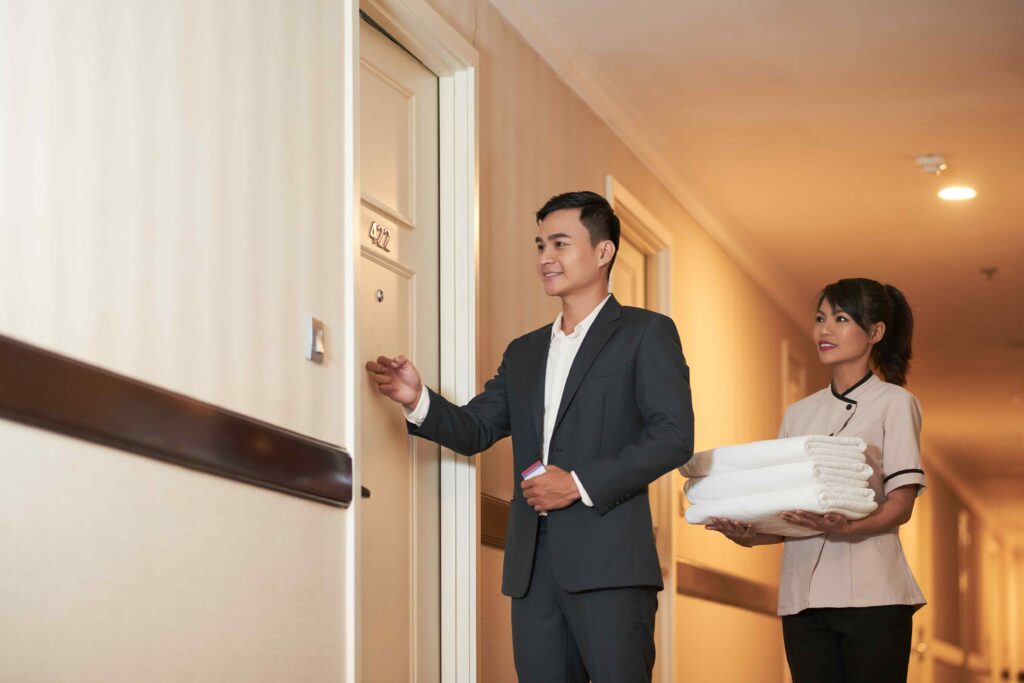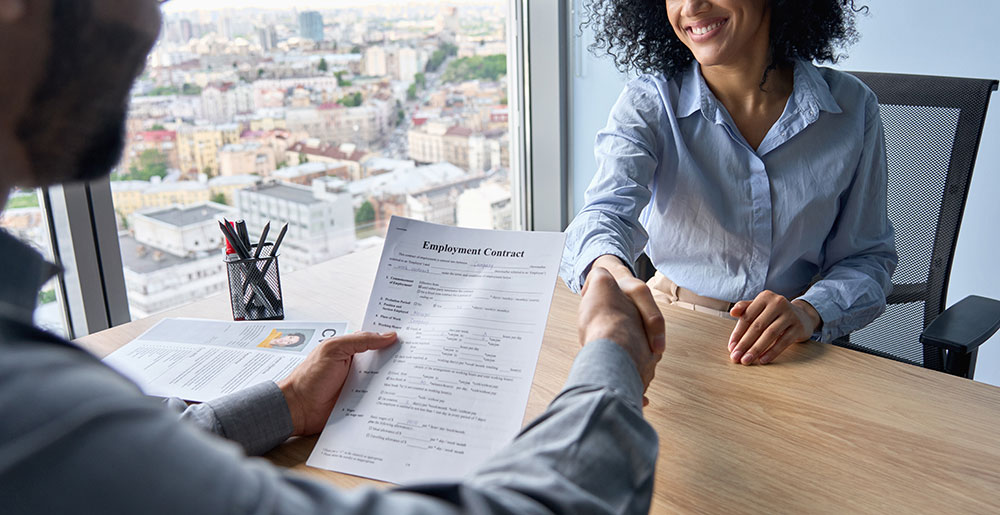 HR Director
The human resources director protects the well-being of employees in the transportation industry while helping senior leadership move toward their strategic goals. In this role, you'll develop policies that improve recruitment and retention. You'll also manage employee compensation, benefits, and performance. Before moving into this role, make sure you're comfortable managing difficult issues, like interpersonal conflict between employees.
Hotel General Manager
Manage and oversee the day-to-day operations of a hotel and its staff, leading the organization with a strategic vision and plans for the future. In a large-scale hotel, general managers may have several middle-managers and supervisors supporting them as they organize, direct, and evaluate processes. A hotel general manager must have deep knowledge of all departments within their organization, but the size and structure of the hotel will greatly affect the scope of duties required.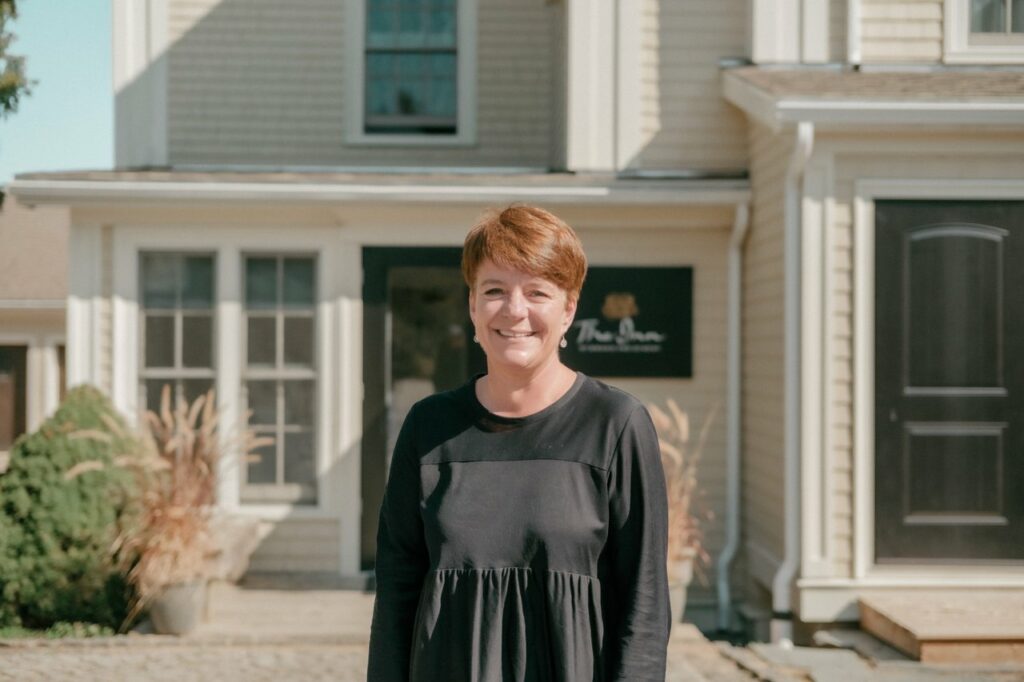 ---
Related Pathways